ServiceALL® Bandsaw Preventative Maintenance Program

Did you know that DoALL can provide maintenance on ALL brands of metal cutting saws?
Do you inspect your machine after a specific number of jobs? Or, do you inspect equipment only after discovering an issue that caused poor performance? Have the DoALL team sweat the details and ensure your band saw(s) are operating at peak performance and decrease "down machine" events with the ServiceALL program.
Increase accuracy and repeatability

Increase blade life

Improve the longevity of your sawing machine investment Increase productivity by decreasing downtime, and stress

Improve the efficiency, quality, and overall performance of the cuts because the band saw machines are well maintained

Decrease the need for costly emergency maintenance events
Qualified Bandsaw Service Technicians
DoALL's service technicians are responsible for ensuring that band saws are properly serviced and functioning correctly. This includes inspecting the parts and ensuring that they are in good condition, lubricating moving parts, checking and adjusting the blade tension, and replacing worn or damaged parts. They also perform periodic maintenance such as sharpening blades, cleaning and adjusting the guide system, and inspecting and testing the drive system. In addition, they may be required to troubleshoot and diagnose problems and make repairs.
Here is the pricing guide for each DoALL saw model & Competitor Equivalent:



Model/Type

Annual Fee

Scheduled PM Events* every 12 months

DoALL Product number - 231510
2013-V2 and V3, 3613-V2 and V3, DS-280M, DS-320SA, 400S

$825

1

DoALL Product number - 231511
DS-500SA, DS-600SA, S-320CNC, S-500CNC

$1,925

2

DoALL Product number - 231512
DC-280NC, DC-330NC, DC-420NC, DC-460NC, DC-560NC, DC-700NC, DC-800NC, 4100, 916, 305

 $2,200

2

DoALL Product number - 231513
DC-330SA, DC-560SA, DC-1100SA, DC-1700SA

$1,925

2

DoALL Product number - 231514
DCDS-600CNC, DCDS-750CNC, DCDS-600SA, DCDS-750SA

$2,750

 2

DoALL Product number - 231515
DC-300CNC, DC-400CNC, DC-510CNC, DC- 620CNC, DC-750CNC, DC-1000CNC, DC-1400CNC, TDC-400SA, TDC-600SA, TDC-400CNC, TDC-600CNC, SC-75A, SC-100A, SC-150A

$3,100

2
Protection For Your Investment!
If you don't maintain your band saw, it can lead to a variety of issues, including poor performance, increased noise, excessive vibration, and shortened blade life. Without regular maintenance, the band saw can become a safety hazard due to a buildup of rust and debris, which can cause the blade to become dull or even snap.
Please note that our ServiceALL program is exclusively covered within 48 states, ensuring exceptional service and support for our valued customers in these regions.
Schedule a bi-annual preventative maintenance with DoALL as recommended by the manufacturer. In the event of a breakdown, the cost for all repairs to the components will be discounted 5% on all parts required.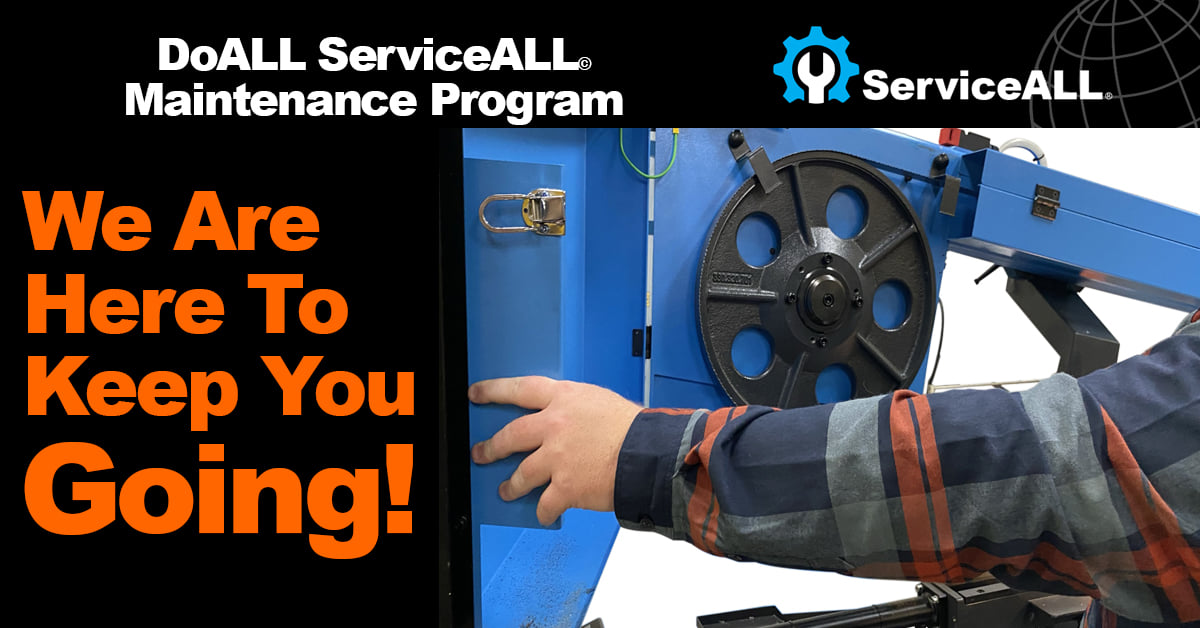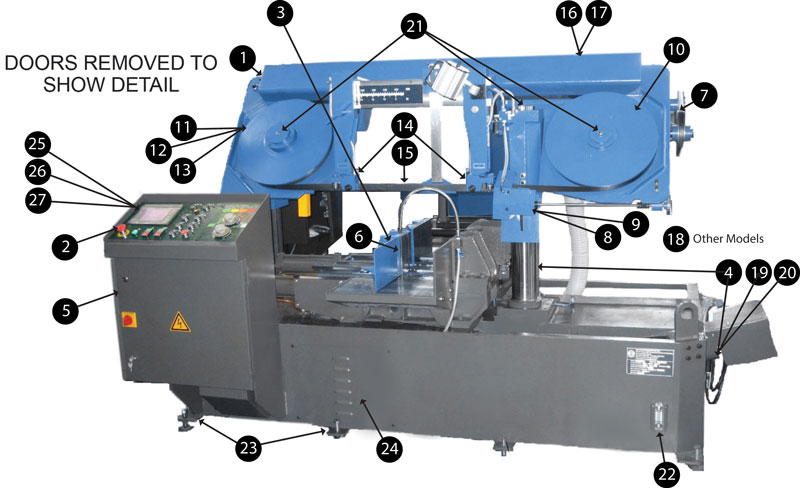 ServiceALL 27 Point Inspection
Our experienced technicians are committed to providing you with the best service available.
Check all safety devices (guards and interlocks) for proper operation and function and correct as necessary.

Check the condition and operation of all control switches. Correct as necessary.

Check the alignment and operation of all limit switches for proper operation.

Check the hydraulic system for leaks; inspect all valves, rollers, gauges, hoses, and fittings. Make recommendations for wear usage.

Check electrical cabling for loose connections, cuts, punctures and/or other damaged wiring. Correct as necessary.

Inspect vise plates for wear as applicable. Make recommendations for wear usage.

Check condition of all belts as applicable. Make applicable recommendations.

Check blade brush assembly for proper operation and positioning.

Inspect band wire brush and replace as applicable.

Inspect band wheels for excessive wear and make recommendations.

Inspect blade tracking and adjust if appropriate.

Inspect idle wheel bearings and drive wheel for excessive wear.

Inspect, lubricate and adjust the blade tension assembly if needed.

Inspect condition of carbide guides, inserts and/or backup bearings as applicable.

Check band point alignment as applicable.

Inspect all external gears for signs of wear and make recommendations.

Examine gear oil in reducer/transmission if not a sealed unit and service as applicable.

Verify pneumatic system pressure and check for air leaks as applicable.

Verify hydraulic system pressure and adjust as applicable.

Examine hydraulic filter(s) and change if applicable.

Grease and/or oil all lubrication points as required.

Inspect the coolant pump and coolant for proper operation as applicable.

Check and adjust saw level if applicable.

Verify condition and settings of VFD as applicable.

Run machine in all modes and confirm operator is comfortable with all aspects of operation.

Test cut and check that material is cut square and to proper length.

DoALL will assist customer in creating a list of wear parts necessary to keep in stock. Customer will be required to provide make and model number of each saw within the program, serial number for each machine within the program and copies of each nonDoALL machine's operating manual.