DoALL was founded in 1927 by Leighton A. Wilkie. Wilkie invented and manufactured the first metal cutting band saw in 1933.
With over 90 years of manufacturing history in the Minneapolis, MN area, the DoALL brand has been known for innovation from day one. With the most complete line of band saws, band saw blades, and coolant products in the industry, DoALL offers industrial sawing machines for high production, general-purpose, miter cutting, vertical contour, and custom engineered sawing solutions.
It's our goal to improve cutting methods by creating top-of-the-line metal-cutting technologies that act as solutions for manufacturers, engineers and designers of all industries.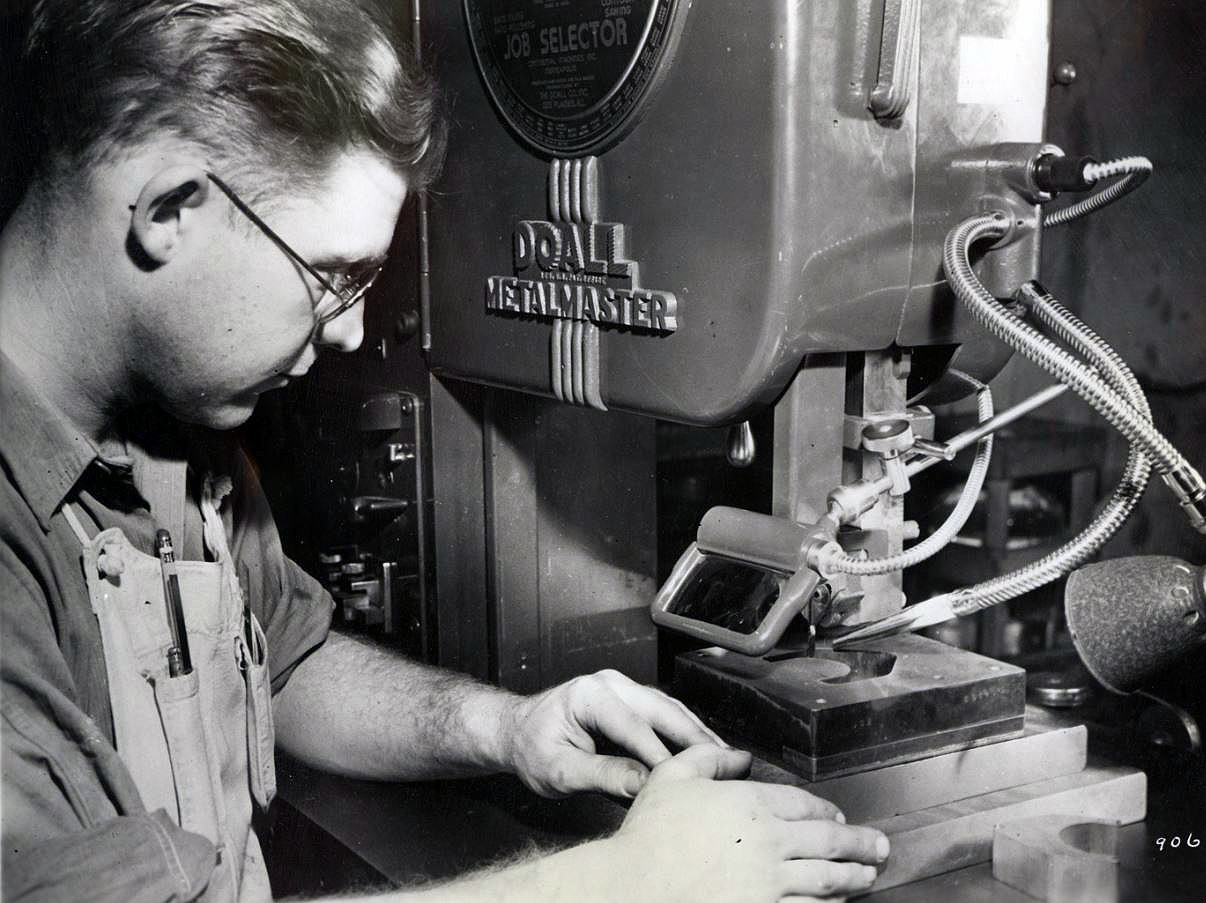 DoAll Products Sawing

Solutions

For All Your Sawing Needs
When you choose DoALL as your band saw manufacturer of choice, you'll have access to the most comprehensive inventory of metal-cutting products in the industry, including skill saw blades, machines, coolants, specialty systems and custom solutions. Our vast assortment includes:
DoALL has been the leader in innovative products since its inception in 1927. We are proud of our history of many "firsts" in the industrial sawing industry. Take a moment to learn more about the history of our company. Some of the historical DoALL milestones include:
1919 - The Wilkies develop the first alignment machine for auto repair shops.
1935 - The first DoALL band saw machine is demonstrated across North America.
1957 - We invented the first welded tip tungsten carbide and the first high friction sawing band saw blades.
1984 - We built the ARS-1216, the first microprocessor-controlled sawing system with automatic storage & retrieval.
1994 - Introduced model C-916SA, a general-purpose automatic swivel saw.
2001 - We developed the StructurALL® blade with positive rake for making interrupted cuts without stripping teeth.
2005 - Introduced the C-3350NC production power saw with fully enclosed cutting area; Expanded fluid line to include in-process conditioners, cleaners, and organic defoamers.
2011 - The line of Continental Series production horizontal band saws, featuring capacities up to 31.4" rounds, were introduced.
2013 - Introduction of our first automatic "cold saw," the Continental SC-75A.
2019 – S-500CNC fully-automated mitering fabrication saw introduced.
2021-DoALL Europa and DoALL Sawing products joined forces to be a truly global company

We're proud of our history and look forward to innovating from 2020 and beyond. DoALL invites you to become part of our "family" of innovators and industry leaders!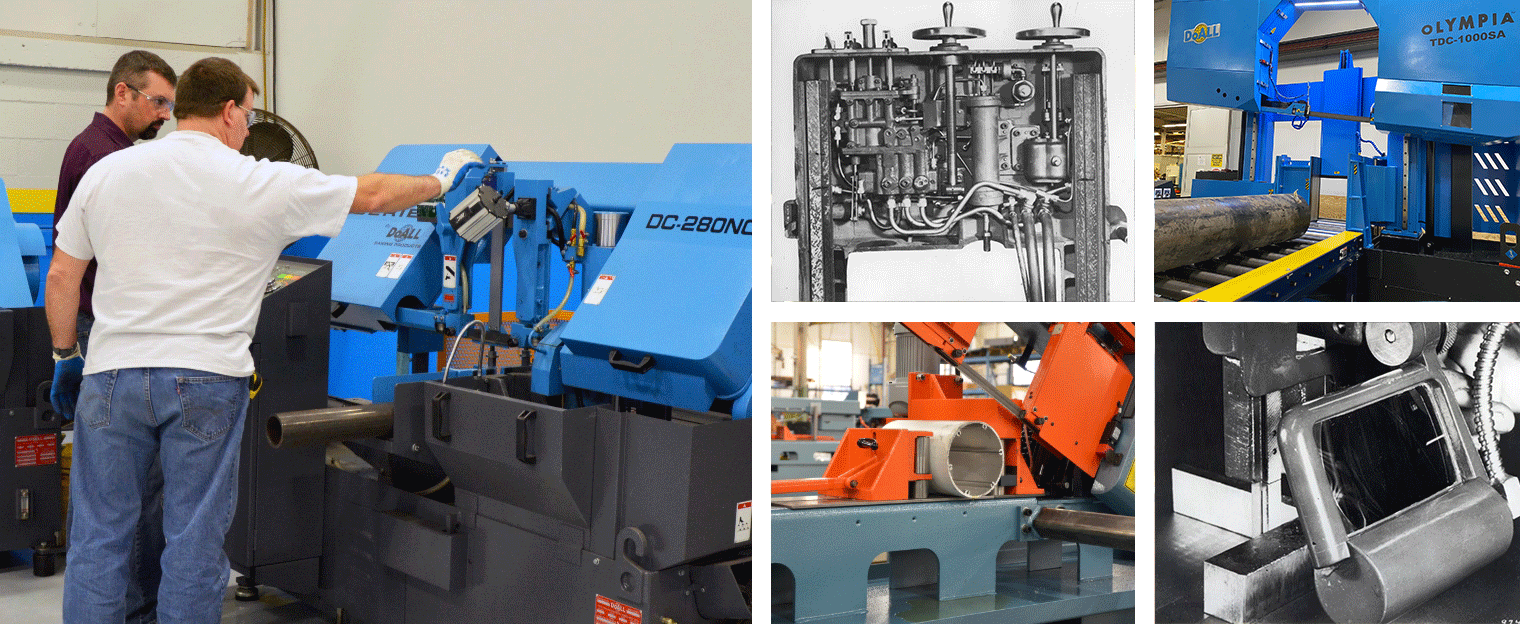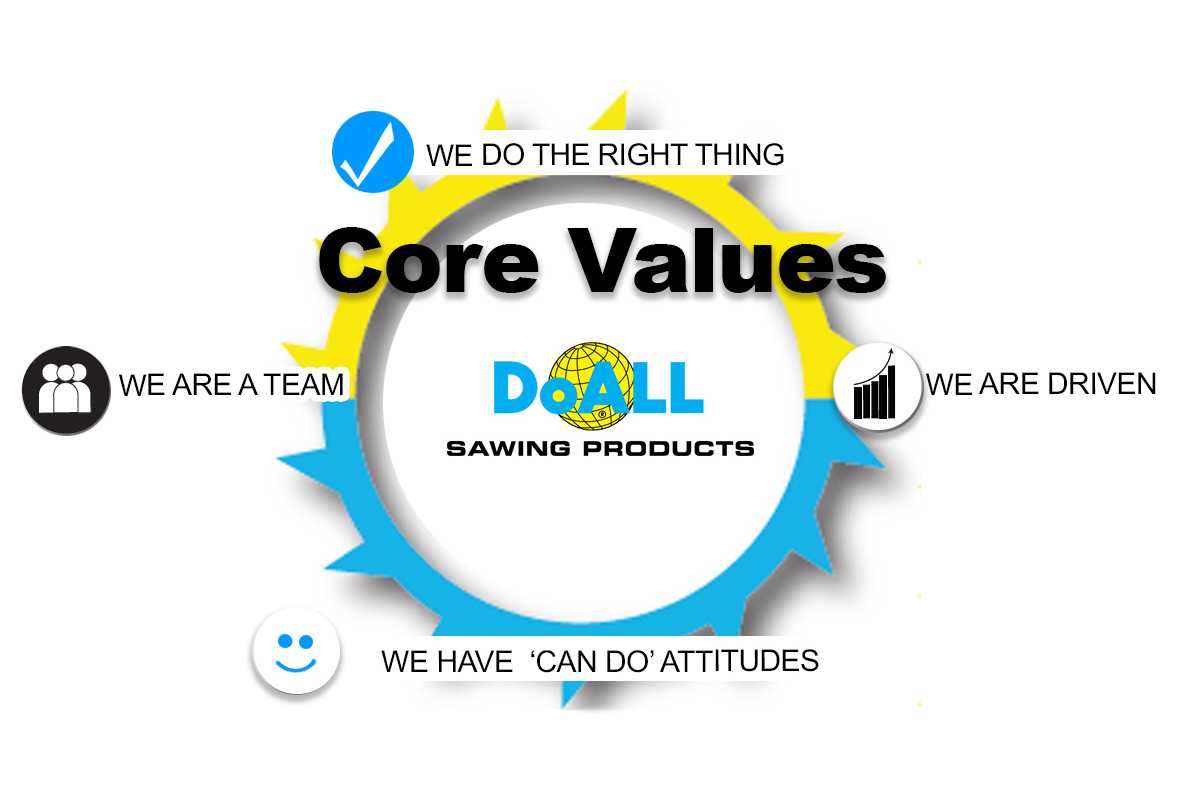 Our values are not just who we are, they drive how we do business.
At DoALL, our employees are driven to create value every day. Our core values are the foundation of our company, essential to our success, and serve as the lens through which we evaluate every business decision. It builds the foundation that drives every decision we make, influences how we treat each other, and most importantly how we treat our customers. 
We manufacture every sawing solution with innovation and improvement at the forefront. Our team of experts is always looking to refine and enhance our existing metal-cutting products while creating new ones that meet the industry's growing demands and your unique application needs.
Why Purchase Metal-Cutting Technologies From DoALL?
At DoALL Sawing Products, we've spent over nine decades providing our customers with state-of-the-art sawing solutions designed with quality and efficiency in mind. In addition to our advanced product selection, we also offer many programs and services that will benefit you and your machines in the long term.
When you come to us, you'll have access to all of the following perks:
About DoALL Europa BV: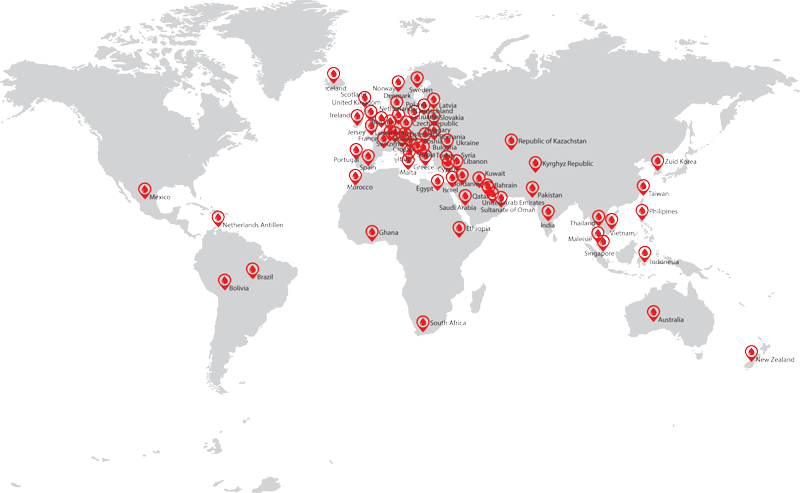 Originally the DoALL products landed with the Marshallplan on European soil, which ultimately led to a demand for these sawing products.
Several years later DoALL opened their first office in the Netherland and expanded with other branches in Europe. Throughout the years the Dutch office grew and moved into bigger premises.
Because of the strategic location in in the heart of Europe, close to the Rotterdam harbour, and the merger of the other branches, DoALL Europa BV became the European head office.
Today DoALL Europa BV is the European Distribution Centre for all DoALL Sawing Products.
From the conveniently located Warehouse in Dordrecht the Netherlands, DoALL Europa stocks and services machines, blades and cutting fluids, which are sent to a network of distributors located in all major countries in Europe, the Russian Federation, Asia, and the Middle East. An in-house welding centre offers custom length bandsaw blades. A service department provides technical support and training to distributors.
DoALL Europa BV is committed to provide its customer, with the best products and services available.
This ambition resulted in the ISO 9001:2015 certification of their quality system.
Work With a Trusted Band Saw Manufacturer Today
You can secure high-quality metal-cutting technologies from DoALL. We're proud to be the only manufacturer in the world to produce sawing blades, fluids and machines for industrial organizations nationwide.
Contact us with questions or inquiries today!