Are you still trying to find that blade that gives you fast and accurate cuts with outstanding blade life and surface finish?
Then you'll need the right tools for the job.
Introducing DoALL circular saw blades. Cermet and coated carbide circular saw blades are steel saw bodies with tungsten carbide or cermet brazed to them. DoALL's blades are the top choice of professionals in manufacturing and fabrication. Offering a wide variety of blades for every high production application, DoALL is the brand of blades you can always depend on.
In this article, we will introduce the 11 advantages of TCT saw blades.
Benefit #1- Wide Range of Sawing Applications
Circular saw blades consist of steel saw bodies with cermet and carbide-tipped teeth. The tips are then ground to match the application for which the blade is being used. Circular saws have a wide range of sawing applications such as: carbon steel, alloy steel, stainless steel, bearing steel, tool steel. DoALL's current carbide-tipped saw blade lineup ranges from 285mm to 660mm in diameter with other sizes available per request.
Mainly for heavy production applications. Some of these applications include:
Cutting sections
Metal tubing, rails, and pipes
Heavy-duty jobs such as these are specific to:
Solid metal bar industry
Steel pipe industry
The aluminum industry
If you happen to work in any of the fields above, then circular saw blades would help you. Of course, if you work with any of the materials listed above, circular saw blades could greatly benefit you and your customers.
Benefit #2- High cutting rates, low energy consumption, low material losses
Longer life and faster cutting are the main reasons why a shop would switch to circular blades. Carbide-tipped blades start off sharper and remain sharp much longer than steel alternatives because of their great wear and heat resistance. A sharper edge means less chipping and shattering with the higher feed rates. You won't have to change your blade as often, saving you time and money over the long term.
Benefit #3- Less vibration, low noise level, extended blade life, superb surface finish
Circular saw blades generally create less vibration which will lower the noise level ultimately leading to a better surface finish of parts.
Benefit #4- Increased productivity
If you are tired of wasting money on saw blades with short life spans, circular saw blades are well worth the investment. Generally, they stay sharper for a more extended period. Making that dreaded blade change happen less often allowing the saw to stay running and your operator to focus on more important tasks.
Benefit #5- Superb surface finish for secondary applications
Due to the durability and toughness of the blade, the edges can remain sharp for a considerable time. Only a sharp edge is capable of making smooth and clean cuts. The fact that cermet/carbide tips will stay sharp for a significant time will enable you to cut various applications smoothly. The precision cut of a circular blade helps to avoid kerf tear-out for smoother and more precise cuts. You spend less time fixing errors and finishing the surfaces all while minimizing your material waste.
Benefit #6- Longer blade life = less downtime
Did you know that circular saw blades can last for thousands of cuts? Not only will you gain an advantage in cut times you also gain time from not changing a blade as often as your competitor. Let them change blades while your production jobs are going out the doors.
Benefit #7- Hardened blade for repeatable accuracy
Do you know what the primary benefit of using a circular saw blade over a band saw blade is? Saw experts say it's the ability to have fast and repeatable accurate cuts with a great surface finish. These saw blades are tough and capable of pushing through the material effortlessly.
Benefit #8- Cermet or TCT tooth
The DoALL circular blades come in Tungsten Carbide or Cermet tooth tips. If you are cutting low to high carbon steels, we recommend using a Cermet tip. It is a high heat resistance blade because of its ceramic properties but is very brittle. If cutting non-ferrous, bearing, tool steels, or stainless we recommend using our tungsten carbide tips with a coating. Tungsten is tougher against impact still has a high heat resistance (less than Cermet) and who could forget a longer life expectancy.
Benefit #9- Coatings available for longer life in TiAlN & TiN
DoALL saws offers coating available for longer blade life. It creates less resistance and friction when cutting into materials leading to less material loss and a smoother finish.
Benefit #10- No burrs
Circular saws offer more cutting control than most blades, and you will need to change the blade based on the type and size of the material you are cutting. Additional advantages include:
Minimal burr production
Less discoloration
No more flood coolant (less of a mess and smell)
Mist oil allowing the blade to stay cool and lubricated
Benefit #11- Fits a wide variety of machines
No matter the manufacturer of your Circular/Cold saw DoALL has the blade for it. Our blades fit most manufacturers' machines.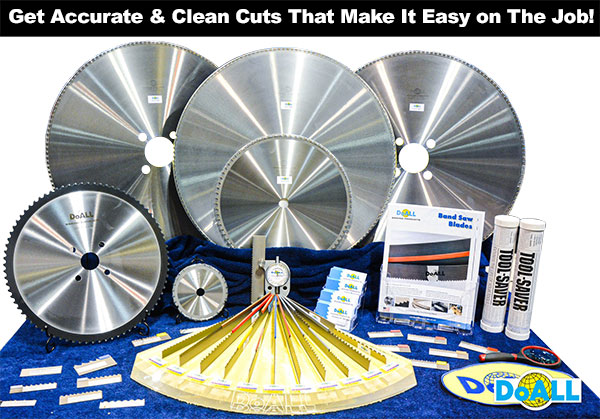 Are you ready to get the right tool for the job?
Whether you work in a small or large metal warehouse, machine shop, or a forge. circular blades can significantly benefit you. They last longer, produce better finishes, and are more versatile than standard saw blades. With a large variety of sizes, choosing the proper circular blade for your project is well within sight.
Let DoALL help you figure out which blade is most suitable for you.
Using the wrong saw blade affects your quality, time, money, and safety. You can contact us immediately, and we will help you choose the most suitable blade. Our team is looking forward to servicing your sawing needs!