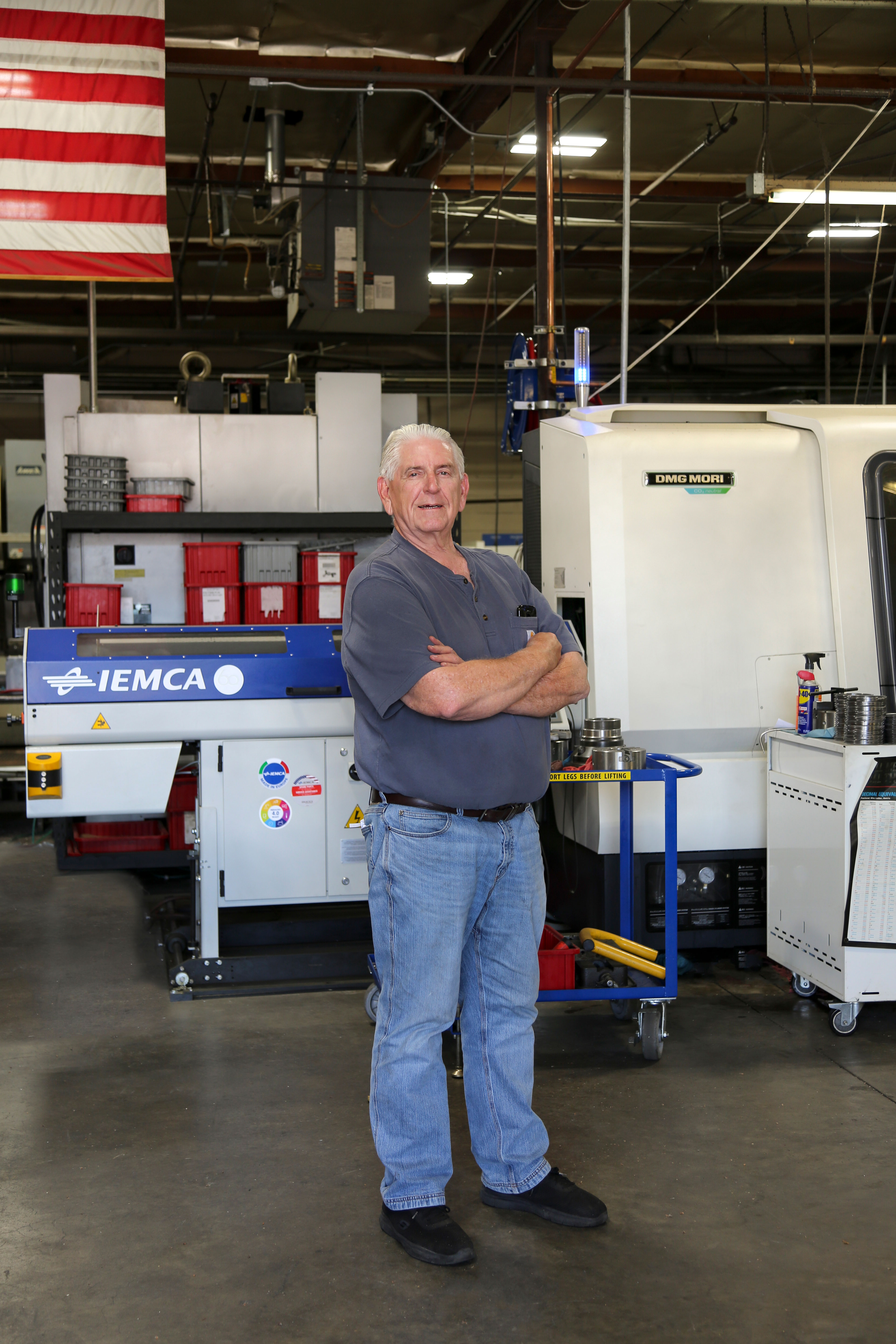 Bill Lane, General Manager of Complete Metal Design had nothing but good words to say about his DoALL DC-330NC band saw. With the use of DoALL band saws, blades, and other tools, they can cut a wide range of materials in a short amount of time. Complete Metal Design Inc. is a CNC job shop located in Glendora, California. If you need a part milled or turned, Complete Metal Design can provide you with the complete solution. https://completemetaldesigninc.com/.
Complete Metal Works was founded in 1982 and used to be a workshop. It began with just one machine, and then they added another, and before long, they had almost 20 machines. They began with manual equipment and have since expanded to include many CNC machines. Because they are incorporated, they have changed their name over time, and they are now known as Complete Metal Design. Bill first heard about DoALL when he began working as an apprentice in his father's business in the 1950s. Bill's father had a DoALL catalog and bought a lot of items from DoALL throughout the years. They liked that DoALL was a brand with a solid reputation.
We interviewed Bill to learn more about his experience with DoALL Sawing Products.
Listen to Bill Lane's testimonial video:
What was your business like before you had our product or services?
I used to buy material, and have it cut by the material distributor, or I'd have to go to an outside saw service because most of my things had to be cut up. I couldn't decide on a bar order material, and I continued to do so for years, until a man named Bruce Moorefield came along and said, "Hey, I can set you up with a saw that you'll pay for in no time."
Then we got an automatic cut-off saw that was shipped from Taiwan; I'm not familiar with Taiwanese machinery, but it functioned better than anything I had. I discovered that purchasing the saw was less expensive than sending out all the saw cutting from my materials arriving, and so on. That saw lasted several years and was getting old, so I talked to that guy, and he got me another saw, and then he bought my old saw back for more than I paid for it originally, which was pretty good, and then we moved on to another brand of saw, which worked well for years and years, and then I went to one of your competitors. I'm not going to disclose anything, but it starts with an "H", and that's how I discovered I was buying the second coming of Christ because I believed I had the best saw I could by looking at it all CNC; it was all enclosed.
It was a lovely-looking saw, but that wasn't the end of it; it looked great, but the price was economical. At the time I wasn't thinking about DoALL. I hadn't been looking at this one saw, and I knew I was looking at HEM saw, because I couldn't find the inch and a quarter blade that I wanted, and HEM saw said yes, we got an inch and a quarter blade, but the machine was like double the price, and I didn't want to pay that much money. So, I got this other saw and had nothing but troubles with it from the start; it didn't even work.
We got the machine, it fell on the floor the first day and everything, and it's still broken; we can't run it, and all their technicians are here trying to get it on, and oh, it's broken, we have to send out for a new hydraulic system, and so we waited two weeks after we got the saw before we got the hydraulic system, and of course, we didn't pay for it. Well, that was just the beginning of a long list of problems for that saw. It was breaking every other week for two years, and I had the technicians in here, and we couldn't get anything done, so we finally put that saw in our backlot and sold it to a buyer, and then I was talking to Dan Royer from DoALL.
What do you like about your DoALL Saw?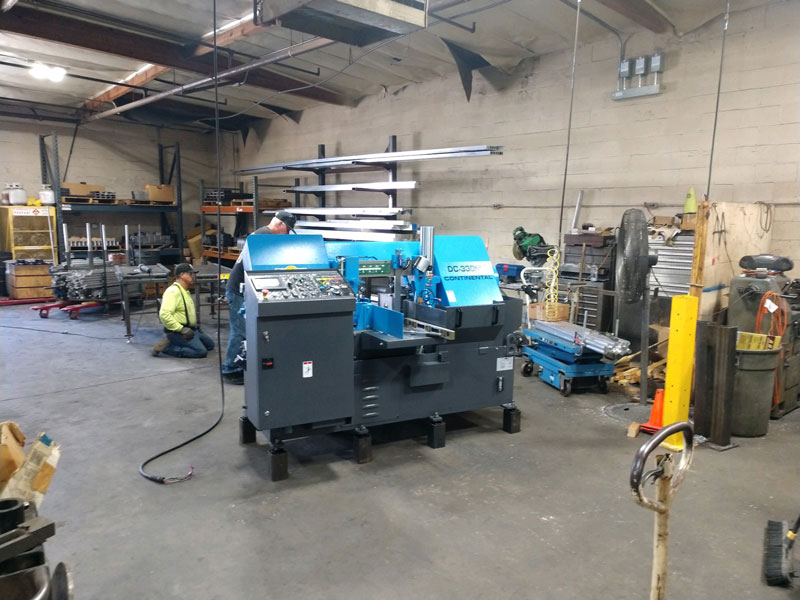 We purchased a DoALL, and I couldn't be happier; I've never had to contact for service. We did have them come in, after a couple of years they come and clean the machine, make sure everything's working and good and we use this a lot every day, and we thought we'd have somebody look at it, make sure it's not going to break on us, and it has not broken yet. I have not broken anything on this saw. I'm not sure what to make of it. It's simply the best saw I've ever used, and I've used it a lot. I've probably owned seven or eight saws in my professional life, and this is the nicest one I've ever owned, and I adore it. I mean, I can't say enough good things about it. I'm not sure how any other saw would measure up.
What problems were you trying to solve and what were your requirements, and what is it solving?
Well, what it solved was no service calls, and I got the inch and a quarter blade I wanted, and we don't go through blades as quickly as we used to; we used to buy twenty blades at a time, different tooth configurations, and we'd go through them in three months. I bought some inch and a quarter saw blades. I ordered a lot of them; I bought more than I needed because I'm still using them on the last order I placed of them, which was only ten blades, and I still have five left.
I now wear out a blade as I go through it. So I use it for so many parts, and it eventually gets dull, and I've broken a few by making a few mistakes, and dumb things happen, but that just vanished; the cost of the saw blades is worth sixty or seventy bucks a pop, and when you go through a few of them, they're kind of expensive, but anyway, that's the two things, and the other thing is that it's so easy to set your dimension what you want to cut, and it cuts pretty. I mean, because I saved so much money on supplies, I don't have to cut the parts any longer than they need to be. When you add it all up throughout the years, that's a lot.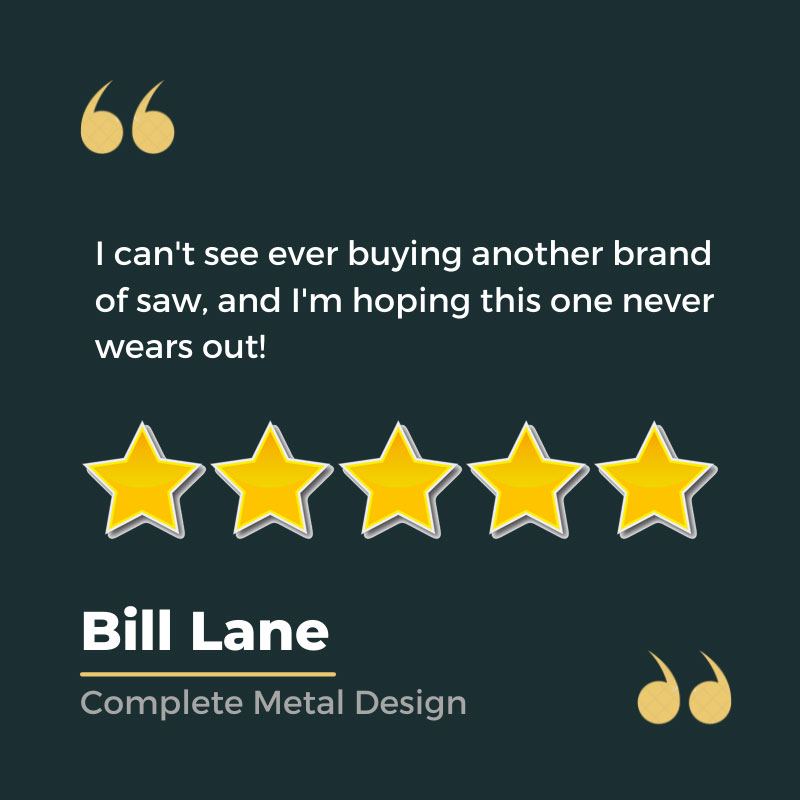 I had this machine remover come in one day, and he's watching me and putting the machine in, and he's standing right behind me by the saw running it, and I got this thing in there as much as I saw will cut the blades off all the way, and I'm cutting my 25 pieces of hot roll steel, one inch thick across this thing, and it's cutting pretty fast, and that guy says, "Man, what a saw, they never cut like that." I even took photos of it. So, we took a whole video of it, and it was amazing. We were so shocked because before, we never had anything like that, we'd never been able to do that kind of thing, and I was just so happy with the saw. I can't see ever buying another brand of saw, and I'm hoping this one never wears out!
If someone else is considering purchasing a DoALL product, what would you tell them?
Exactly what I just told you, and I have told some of my customers because I have customers who have their saws, and I've mentioned that many times and I don't know if they're great or not, but I put it out there. I put it out to anybody who wants to call or talk to me, wants to come, and look at the saw, just drop on by.
What other DoALL products are you considering in the future?
I don't buy nearly as many cutting tools as I used to. I basically get into the major things and sort of monitor the shop; I don't really get into the day-to-day of things, but I mean, I always look at DoALL, and I'm sure my buyer buys some of that stuff. I couldn't give a definitive response to that issue, but I can assure you that I would not purchase another saw. So, over the years, I've used countersinks, various tools, and cutting tools. I can't say I use an excessive amount of any one brand; I usually start with the cheapest option and work my way up.
Is there anything else that you would like to comment on or say about DoALL or your business?
Well, I must add that Dan Royer and the other Dan that services our saw are both wonderful gentlemen. I can't say enough good things about the atmosphere and vibe on that machine. I mean, they're always here, and it took them a good six months to persuade us to do this; we were so unsure of what we'd be getting ourselves into because we'd had such a bad experience with that other company, which starts with an "H" and an "M", but anyway, I just can't say enough, and I mean, the other company promised us the sky and delivered nothing.
We got absolutely nothing but a piece of junk that we sold and cost us around 35 grand. We sold it for around three or four thousand dollars to some guy who was going to try to fix it. That's all there was to it; it was just two years old, and I haven't heard from him in a long time, so I'm not sure what he did with it, but that's where it ended up. I don't appear to have any qualms about mentioning the saw's name and all. DoALL is a well-known brand, and I'm pleased to be the proud owner of one!
Have you had a good experience from DoALL? We would love to hear from you!