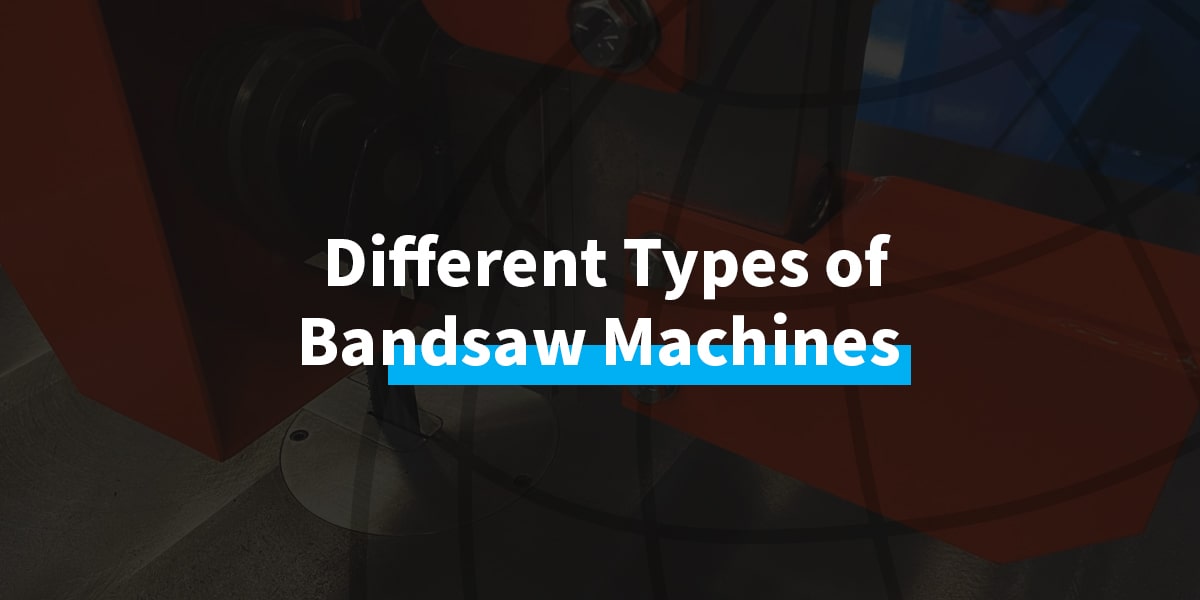 You can choose from a wide range of bandsaw types for your industrial metalworking and manufacturing needs. Different types of bandsaw machines can handle unique projects. It's crucial to use the correct bandsaw for your operation to enhance safety, increase efficiency and create a better cut.
You might consider many kinds of bandsaws for your project, from general-use horizontal bandsaws to specialized vertical plate saws. Learn about the different advantages and uses of each type of bandsaw below.
Horizontal vs. Vertical Bandsaws
The two main types of bandsaws have either horizontal or vertical cutting positions. Take a look at the differences between horizontal and vertical bandsaws to determine what's right for your application:
Horizontal Bandsaws
A horizontal bandsaw's long blade makes straight cuts through hard materials like metal, aluminum and steel. This type of bandsaw is used in commercial and industrial applications because of its large footprint.
Consider some advantages of the horizontal bandsaw:
Heavy-duty: Horizontal bandsaws can cut through hard metals like titanium.
High-powered: These bandsaws are extremely powerful while remaining relatively quiet.
Automatic: Horizontal bandsaws can often run automatically, meaning less work from the operator and more accuracy.
Vertical Bandsaws
Vertical bandsaws, also called vertical contouring saws, make more intricate and detailed cuts through softer materials like aluminum, non-ferrous metals and low-carbon steel. With a vertical bandsaw, you get these advantages:
Precision cutting: These types of bandsaws can create precise cuts on a small scale.
Reduced profile: Vertical bandsaws leave more space free on the shop floor.
Versatile application: Vertical bandsaws can perform detailed cuts, including curves and contours.
Circular Saws
Circular saws are ideal for manufacturing and industrial applications needing high performance and maximum safety. These motor-driven bandsaws are also called cold saws because they prevent the blade and metal from getting overheated, which can cause inefficient cutting.
Circular saws use a circular blade rather than a straight blade fitted between two wheels, which most other bandsaws use. Circular saws are usually free-standing. These bandsaws are ideal for cutting in small diameters and short lengths. The circular blade provides excellent versatility and can cut through many ferrous and non-ferrous materials, including:
Aluminum
Wood
Insulation
Plastic
Polystyrene
A circular saw makes a powerful addition to a commercial manufacturing application. They are fully automated, meaning they can produce precise, repeatable cuts. The circular blade is either made of high-speed steel or has tungsten carbide-tipped teeth. You can sharpen carbide-tipped blades, so you don't need to replace them as often as high-speed steel.
You can use these types of bandsaw machines in these and other applications:
Window and sign manufacturing
Cutting tubing and pipes
Robotic welding
Metal fabrication
Fabrication Mitering Saws
In some fabrication projects, you might need to make angled miter or bevel cuts for correct assembly. A fabrication mitering saw can be handy in a workshop for these projects. Depending on how you place the material on the saw, the same fabrication mitering saw can create miter cuts and bevel cuts.
Two kinds of saw platforms for mitering saws are the swiveling-head saw and the swiveling-vise saw:
Swiveling-head mitering saw: The operator feeds the material into a swiveling-head mitering saw the same way as a saw without mitering capabilities. The head itself swivels to make the necessary cut. This machine requires a larger frame.
Swiveling-vise mitering saw: The vice grips the material at the required angle and swings the workpiece to the correct orientation. This machine requires additional clearance because of the movement of the workpiece.
Fabrication mitering saws are a standard fixture in the woodworking and metalworking industries, as contractors and manufacturers use them in a wide range of applications, including:
Cutting through large workpieces
Making miter and bevel cuts
Achieving high-volume fabrication
Cutting heavy-duty materials
Constructing metal stock parts
Production Saws
In a high-production environment, manufacturers need machines that deliver high accuracy on a high volume of workpieces. Production saws provide cutting-edge performance for various applications. These bandsaw types are highly efficient and work automatically to supply the accurate, high-volume cutting rates manufacturers need to stay on top of operations.
Production saws are horizontal and use a long blade to swing through workpieces fixed to a cutting plane. The dual-column design of a horizontal production saw keeps the blade stable as it moves through large workpieces. Production saw machines feature an enclosed "box" design which creates an enclosed operating environment and increases safety.
These bandsaws come in automatic and semi-automatic varieties. Production bandsaws are ideal in the automotive, electronic, electrical and woodworking industries. You can use these bandsaws to:
Deliver precise cuts
Cut through large workpieces
Perform high-volume work
Cut rigid materials like metals
Specialty Saws
Some applications require unique cuts or specialty functions. Fortunately, bandsaw types and functions go beyond horizontal saws that create standard crosscuts. When you need a particular cut or work with an out-of-the-ordinary material, look for specialty saws.
Performing cuts efficiently requires the right tools. These applications might require a specialty saw:
Cutting heavy steel-grades
Cutting fragile materials like glass, quartz and silicon
Cutting through large blocks or sheets that standard saws could not handle
Splitting pipes
High-speed fabrication
A specialty saw will likely provide the solution when you need to perform these cuts. Check out these types of specialty saws that offer high performance and specialty features:
Diamond saws: Diamond saws use a diamond grit edge on their blade to achieve precision cuts on brittle materials. These saws are ideal for cutting through glass or quartz. Diamond saws come in various upright and horizontal positions to better accommodate different materials.
Vertical plate saws: When manufacturers need to cut through large blocks of materials that wouldn't fit on a typical saw, they turn to vertical plate saws. These saws have a large footprint to make room for solid plates and very heavy materials. Vertical plate saws use hydraulic lift tables to handle these large workpieces successfully.
Vertical contour bandsaw: High-velocity vertical contour bandsaws can cut up to 30 times faster than other conventional bandsaws. This capability makes them better suited for cutting through extremely tough materials.
Tube Cutting Saws
Many conventional saws can handle cutting through pipes and tubes, but if your application requires a high volume of tube cutting, adding a tube cutting saw to your workshop can boost productivity and accuracy. These saws are designed with blades to optimize tube cutting by cutting at special angles. You can make precise cuts on tubes and pipes of different diameters.
These types of bandsaws come with various speed capacities and can handle differently sized tubes made from plastic, stainless steel and other metals. Manufacturers use tube cutting saws for jobs requiring high precision, such as:
Cutting metal tubes
Contracting in the gas and oil industries
Manufacturing HVAC parts
Fabricating plastic tubes
Purchasing a tube cutting saw designed for your operation provides several benefits compared to using a general-purpose bandsaw:
Greater efficiency: Tube cutting saws run at higher speeds and allow operators to load multiple pipes and tubes simultaneously.
High-precision cuts: The angled blades of a tube cutting saw ensure optimal accuracy.
Improved feed accuracy: Hydraulic feed guides and clamps control your workpieces during the cutting process.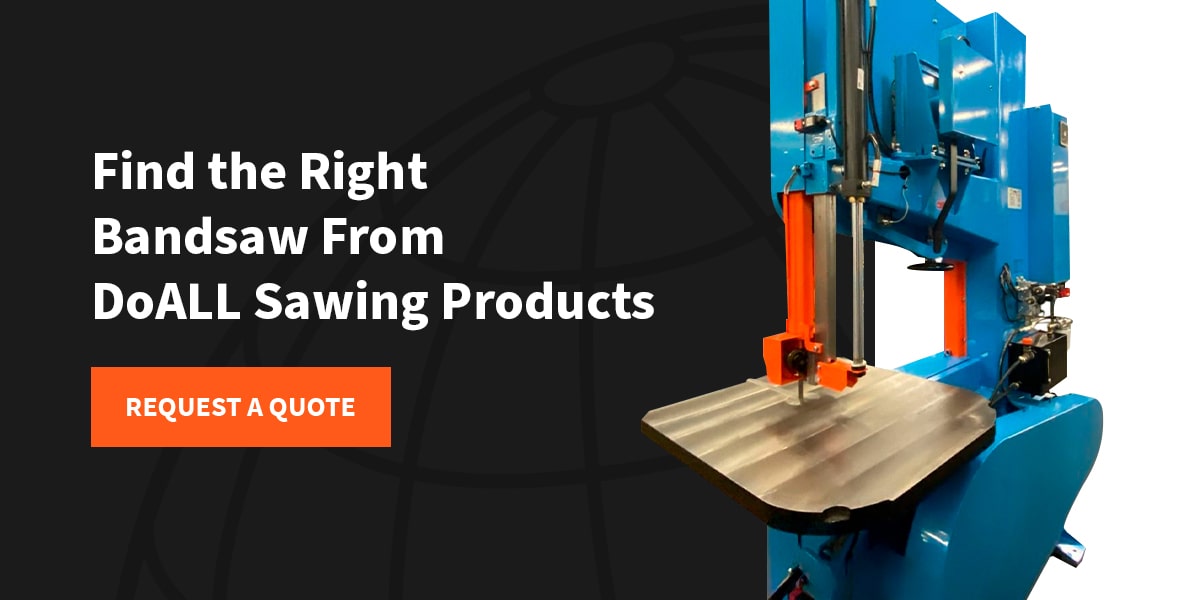 Find the Right Bandsaw From DoALL Sawing Products
DoALL Sawing Products provides a wide variety of bandsaws, from standard vertical and horizontal saws to specialty saws for the most demanding applications. Whether you need to enhance your operations with a tube cutting or fabrication mitering saw, you can find what you need at DoALL. Our experienced team will help you determine the exact saw and blade you need for your specific project.
When you partner with DoALL, you get the expert help of our staff and benefits like our DoALL Cut Above 10-year warranty. Browse our saw machines today.